Darrell Wallace Jr. Airforce 2019 3D printed Figurine 3.5 inch (1/24 Diecast size)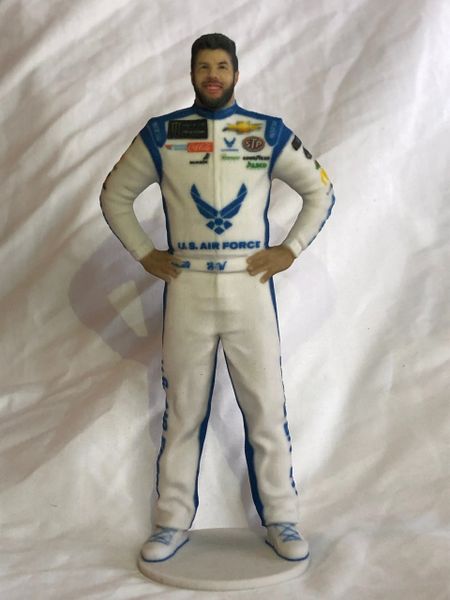 Darrell Wallace Jr. Airforce 2019 3D printed Figurine 3.5 inch (1/24 Diecast size)
2019 3D printed Figurine of Darrell (Bubba) Wallace Jr. 3.5 inch wearing his Airforce sponsored uniform. It comes with a base that is optional to use if you would like to stand him on it.
Moment In Time Collectibles is the leader in offering the most updated 3D technology available to create and print lifelike 3D Figurines. Moment In Time Collectibles ability to 3D print an individual today will leave an everlasting image for future generations. We now offer a unique collector's piece to be cherished for years to come. Perfect size for your Diecast Car !
Order your Collectors' piece today...

Please allow 10 to 14 day delivery time
After Aric Almirola announced his departure from Richard Petty Motorsports, team owner Richard Petty announced in an interview that he and the team were working on a progress to hire Wallace as the new driver of the No. 43 in 2018. Wallace was officially introduced to the team as their new driver on October 25.

 

He is the first African-American driver to have a full time Cup ride since Wendell Scott in 1971.
Prior to the season-opening Daytona 500, Wallace received support from National Baseball Hall of Famer Hank Aaron and Formula One driver Lewis Hamilton. He drove the No. 43 Chevrolet Camaro to finish second behind Austin Dillon, the highest finish by a full-time rookie driver in race history, after beating Denny Hamlin to the start/finish line by .002 seconds.
In May, Wallace returned to the Truck Series, driving the No. 20 for Young's Motorsports at Kansas. He finished 14th.