Joey Logano 2019 Pennzoil 3.5 inch 3D printed Figurine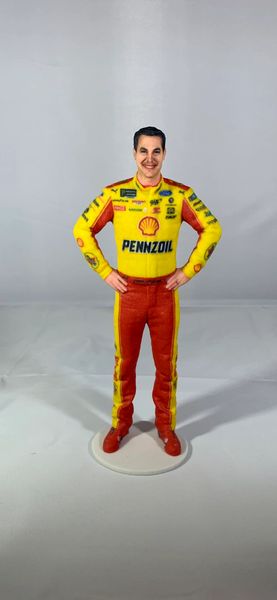 Joey Logano 2019 Pennzoil 3.5 inch 3D printed Figurine
JOEY LOGANO 2019 PENNZOIL 5 INCH 3D PRINTED FIGURINE
This figurine is incredibly detailed and lifelike. Moment In Time Collectibles is the leader in offering the most updated 3D technology available to create and print lifelike 3D Figurines. Moment In Time Collectibles ability to 3D print an individual today will leave an everlasting image for future generations. We now offer a unique collector's piece to be cherished for years to come.
Order your Collectors' piece today...
Please allow 10 to 14 day delivery time...
Joseph Thomas Logano (born May 24, 1990) nicknamed "Sliced Bread", is an American professional stock car racing driver. He currently competes full-time in the Monster Energy NASCAR Cup Series, driving the No. 22 Ford Mustang GT for Team Penske, and part-time in the NASCAR Xfinity Series, driving the No. 22 Ford Mustang GT for the same team. Logano is the reigning Monster Energy NASCAR Cup Series Champion. He previously drove the No. 20 Toyota Camry for Joe Gibbs Racing from 2008 to 2012, collecting 2 wins, 16 Top-5 finishes and 41 Top 10 finishes.  
Logano's first major NASCAR win came during the Meijer 300 at Kentucky Speedway in just his third start in the 2008 Nationwide Series. He became the youngest driver to win a Nationwide Series race at 18 years, 21 days old. The previous youngest was Casey Atwood in 1999 at 18 years, 313 days.[1][2] Logano became the youngest winner in Cup Series history when he won the 2009 Lenox Industrial Tools 301 at New Hampshire Motor Speedway at 19 years, 35 days. The previous youngest was Kyle Busch in 2005 at 20 years, 125 days.[3] Logano is now the youngest winner in two of NASCAR's three top divisions. Logano was also the first NASCAR driver born in the 1990s that has competed in NASCAR's three major divisions. In 2015, he became the second-youngest Daytona 500 winner behind Trevor Bayne.
Contents 
2.2
Xfinity Series and Camping World Truck Series
2.3
Monster Energy Cup Series
2.3.1.1
2009: Rookie in the spotlight
2.3.1.2
2010: Youngest pole winner
2.3.1.3
2011: Forgettable season
2.3.1.4
2012: Final season at Gibbs
2.3.2.1
2013: Career redemption
2.3.2.2
2014: Breakout season
2.3.2.3
2015: A season for the ages
2.3.2.4
2016: Heartbreak at Homestead
2.3.2.5
2017: Championship 4 to missing the playoffs
2.3.2.6
2018: Championship redemption
2.3.2.7
2019: Title defense
3
Other media appearances
5
Motorsports career results
5.1.1
Monster Energy Cup Series
5.1.3
Camping World Truck Series
5.1.5
K&N Pro Series West