Kyle Busch 2019 Interstate Batteries 3D printed Figurine 7 inch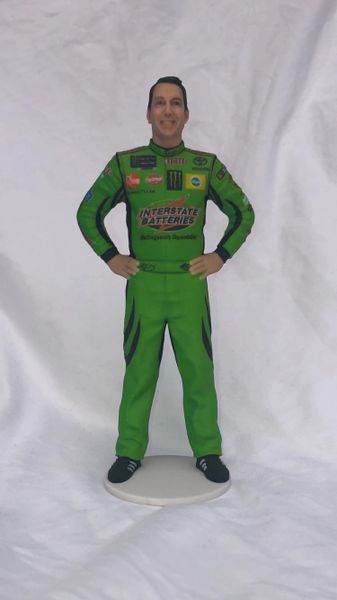 Kyle Busch 2019 Interstate Batteries 3D printed Figurine 7 inch
2019 KYLE BUSCH 3D printed Figurine...!!!
This is a 7 inch 3D printed figurine of Kyle Busch in his Interstate Batteries uniform. Kyle is the 2015 NASCAR Sprint Cup Champion. His latest achievement is winning his 200th NASCAR race. Kyle is a sure Hall Of Famer when he decides to retire. These collectible figurines are a figurine that any fan can afford. We offer them in several sizes and price points. A great item to take to an autograph session for him to sign. The 3.5 inch is a great addition to your diecast car collection. They stand well beside your diecast cars. 
Kyle Thomas Busch (born May 2, 1985), nicknamed Rowdy, is an American professional stock car racing driver and team owner. He currently competes full-time in the Monster Energy NASCAR Cup Series, driving the No. 18 Toyota Camry for Joe Gibbs Racing, part-time in the NASCAR Xfinity Series, driving the No. 18 Toyota Supra for JGR, and part-time in the NASCAR Gander Outdoors Truck Series, driving the No. 51 Toyota Tundra for Kyle Busch Motorsports. KBM runs multiple trucks in the Truck Series and a Super Late Model team. Busch is the 2009 NASCAR Nationwide Series champion and the 2015 NASCAR Sprint Cup Series champion.
Busch is the younger brother of 2004 NASCAR Nextel Cup Series champion Kurt Busch. He also currently holds several records in NASCAR competition, including the most race wins in a season across the top three NASCAR series, with 24 wins, which he accomplished in 2010. He holds the record for most all-time wins in all three of NASCAR's national touring series with 204 (as of April 7, 2019). Furthermore, he holds the record for the most Xfinity Series wins in a season with 13 in 2010, and the most overall with 95. Busch also holds the record for most overall wins in the Gander Outdoor Truck Series with 55. As of 2019, he is the only driver in history to have 50+ wins in NASCAR's top 3 series.
At age 19 years and 317 days, Busch became NASCAR's youngest ever pole winner in a Cup Series race at California Speedway in 2005. He's the youngest driver to qualify for the Chase for the Sprint Cup, in 2006. Furthermore, Busch became the first driver to win a race and a championship in a Toyota in the Monster Energy NASCAR Cup Series, winning at Atlanta Motor Speedway during the 2008 season and the 2015 Cup Series championship. Additionally, he is the only driver to win four straight spring races at Richmond International Raceway (2009–2012), and was also the inaugural winner of the first Cup Series race at Kentucky Speedway, in 2011.
Busch, who began his NASCAR career in 2003, is one of only five drivers that have won a championship in both the Sprint Cup Series and the Xfinity Series, and in 2005 became the 14th of only 28 drivers to win a race in each of NASCAR's three national series. In 2009, Busch became the first driver to win two of NASCAR's top touring series races in the same day (at Auto Club Speedway), followed in 2010 as the first driver to win races in all three of NASCAR's top three touring series in the same weekend (at Bristol), which he would do again at the same track in 2017.
When Busch won the 2009 Crown Royal Presents the Russell Friedman 400 at Richmond International Raceway as he turned 24, he was the second of just three people to ever win on their birthday. His team, Kyle Busch Motorsports, became the first Camping World Truck Series team to win the owners' championship in its first year after recording 8 wins, 16 top 5, and 21 top 10 finishes in 2010.