Richard Petty STP 9 inch 3D printed Figurine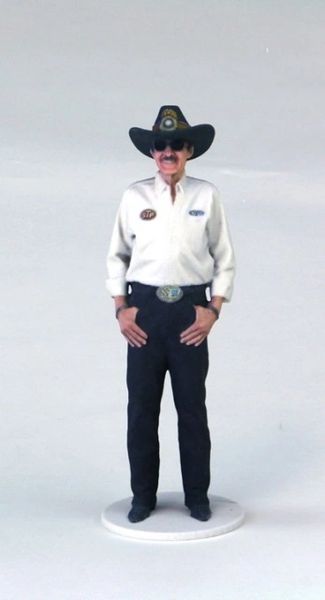 Richard Petty STP 9 inch 3D printed Figurine
2018 Richard Petty STP sponsorship 3D Printed Figurine.
NASCAR has had a great start to 2018. Richard Petty Motorsports has a new driver in Darrell Wallace Jr. (Bubba) and STP once again on the 43 car. We along with Richard Petty Motorsports have created another Richard Petty Collectors' piece. This is a one of a kind 3D printed Figurine. You can add this great Figurine to your NASCAR Collection. 
Please allow 10 to 14 day delivery time
The King, is a former NASCAR driver who raced in the Strictly Stock/Grand National Era and the NASCAR Winston Cup Series. He won the NASCAR Championship seven times (Dale Earnhardt and Jimmie Johnson are the only other drivers to accomplish this feat),

 W

inning a record 200 races during his career, winning the Daytona 500 a record seven times, and winning a record 27 races (10 of them consecutively) in the 1967 season alone.

 

Statistically, he is the most accomplished driver in the history of the sport and is one of the most respected figures in motorsports as a whole. He also collected a record number of poles (127) and over 700 Top 10 finishes in his 1,184 starts, including 513 consecutive starts from 1971–1989. Petty was the only driver to ever win in his 500th race start, until Matt Kenseth joined him in 2013. He was inducted into the inaugural class of the NASCAR Hall of Fame in 2010.
Petty is a second generation driver. His father, Lee Petty, won the first Daytona 500 in 1959 and was also a three-time NASCAR champion. His son Kyle is also a well-known NASCAR driver.